RAIN-GUARD™ Lobby Panel Weather Hoods
RAIN-GUARD™
Lobby Panel Weather Hoods Galvanized Steel w/ Black Powdercoat Finish
RAIN-GUARD™ provides an overhanging hood to help keep rain off the face of intercom lobby panels, thereby preserving the operating life of the protected panel. Rain-Guard weather hoods may be used with most LEE DAN lobby panels built into frames, as well as most stainless steel panels made without frames. Sloping side panels provide an attractive finished installation and maintain panel visibility for building visitors.
Rain-Guards are field installable, and can easily be added to existing installations. Rain-Guards are manufactured of heavy duty galvanized steel and finished in black powdercoat. The rich black finish blends well with any LEE DAN aluminum, alum/black (two-tone), gold anodized, gold/black (two-tone), black anodized, and stainless/black lobby panels. Rain-Guards can also be used with most Van-Guard® , Quantum, Centurion and Millennium® panels (our most popular styles for outdoor use), and many Style "E"™ (economy) panels. Consult specifications below for compatibility, or call our customer service department toll-free for assistance.
Apartment Lobby Entry Panel Specifications
Model #

Dimensions

Top Depth
Bottom Depth
Fits These Frames
RG-1
12 3/4"H x 6 1/4"W
3 7/8"
1 3/4"
OF-121 and OF-121SV
RG-11
18 13/16"H x 6 1/4"W
3 7/8"
1 7/8"
OF-201 and OF-201SV
RG-12
18 13/16"H x 10 1/4"W
3 7/8"
1 7/8"
OF-202 and OF-202S
RG-13
18 13/16"H x 14 1/4"W
3 7/8"
1 7/8"
OF-203 and OF-203S
Large and custom sized Stainless Steel & Brass Rain-Guards are available on a special order basis
Fits Many Standard Size Loudspeaker Panels
Style "E"™
Centurion™
Bravo™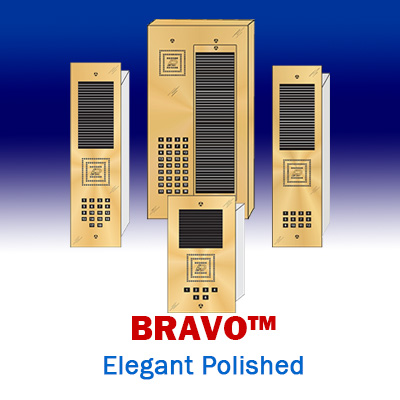 Millennium™
Quantum™
Van-Guard™
Last modification time of the file: February 09 2021 16:38:02.